Tile Cleaning and Restoration Services
"Is the tile and grout in your home looking tired, old and dirty?"
"Most people only notice the condition of their tile, stone, cement and
other hard surfaces when they become really stained and dirty!"
But by that time … layer upon layer of stains, bacteria, and mineral deposits have built-up into a mess that's almost impossible to clean on your own. Scrubbing won't do it… bleach won't do it. It used to be that tile floors, showers, and countertops had to be replaced once they got this bad. But today you have a faster and more economical tile cleaning option.
Carpet Cleaner Perth WA "Tile and Grout POWER Cleaning System."
(See proof of our system results in the pictures at the bottom of this page.)
This proprietary cleaning system can restore soiled tile, concrete, natural stone, and grout to like-new brilliance in a single service visit.
Don't wait for your hard surfaces to look deeply soiled and dirty, especially in your living areas, bathrooms and on kitchen counter tops. Even if your hard surfaces still looks clean, they'll probably contain unseen, bacteria, mold, and filth that can affect brightness and sanitation.
So for complete tile restoration or routine maintenance, let us demonstrate the amazing results from our revolutionary restorative
"Tile and Grout POWER Cleaning System."
Do you remember what your tile floors, bathroom tile, and tile counter tops looked like when they were new … when the grout was really clean and bright?
Are you feeling frustrated?
Tired of cleaning on your hands and knees and not getting the results you want?
Too much hard work … and not enough satisfaction?
Home owners, realtors, and tile contractors all agree on one thing.
You can scrub your tile and grout all day long … But if the grout lines
don't look clean and sharp – the tile just never looks clean!
"And dirty tile just makes a room look old, dark and tired."
Once Your Tile and Grout Have become Dirty BELOW the Surface
there's ONLY 1 way to get them bright and clean again… and that's with
"Hot Water Extraction" & Our "Tile POWER Cleaning system"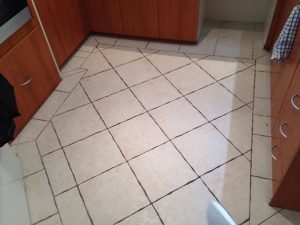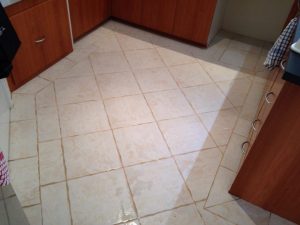 Our tile and grout POWER Cleaning System makes your tile look new again. Grout lines look sharp and are ready to be resealed – extending the life of your floors, and saving you money from needless renovations or tile replacement.
This 20 year old kitchen tile countertop was Power Cleaned and looks brand new.
saving the home owner of $500 in renovation expenses.
We can even use the Tile Power Cleaning System to clean your cement or exterior walkways.
Tile and Grout Power Cleaning Procedures
We specialize in cleaning and sealing ceramic tile
and grout for residential and commercial installations.
Unfortunately microscopic pores allow dirt and other contaminates to become trapped below the surface, where they cannot be removed with regular mopping.
The dirt continues to build up inside those spores, leaving tile and grout looking dark, dirty, and discolored. Even hand scrubbing with harsh cleaners can be ineffective, not to mention, time consuming and extremely labor intensive.
Our Seven Step Procedure:
Step 1: Pre-Inspection & Testing
We will inspect your floor to determine expected cleaning results.
Step 2: Vacuum Floor
Your floor will be vacuumed to remove loose debris.
Step 3: Tape and Protect
We will protect baseboards, cabinets, walls, and any furniture in the work area.
Step 4: Apply Grout Cleaner
Grout will be treated with a top quality cleaner made especially for grout.
Step 5: Truck-mounted Hot Water Extraction
This step provides a super rinse. The unlimited supply of hot water and the powerful extraction takes the soil back to the truck. A mop and bucket won't do this!
Step 6: Speed Dry
A high velocity air mover is placed on the floor to speed dry it.
Step 7: Apply Grout Sealer
A premium grout sealer is applied.
Step 8: Post Inspection
A final inspection is done to ensure your complete satisfaction!
Please call us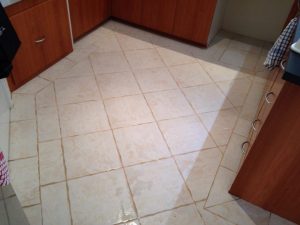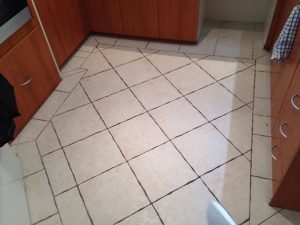 for your FREE Estimate