Carpet Cleaning and Restoration Services
Carpet is the number 1 flooring investment in most of our homes, and to protect that investment you need to understand that today's carpet manufacturers REQUIRE regular professional cleaning to maintain their warranties. (See sample warranty information below)
Carpet Cleaner Perth WA is an (IICRC) Institute of Inspection, Cleaning and
Restoration Certification – certified master cleaning company.
We use "Truck Mounted HOT Water Extraction" the number 1 recommended carpet cleaning technique recommended by the IICRC, the CRC "Carpet Research Institute", and the top carpet manufacturers in the industry.
Truck mounted machines offer greater power and suction so your carpets will stay cleaner longer and dry faster.
The Institute of Inspection, Cleaning and Restoration Certification (IICRC) has served as the Industry Guardian for the cleaning, inspection and restoration service industries for more than 30 years. As a non-profit certification organization, the IICRC helps ensure that you have access to trusted and trained cleaning professionals by establishing and monitoring certification programs and standards for these industries.
We pride ourselves in staying current on new
residential and commercial carpet maintenance techniques and technologies.
We offer new "Green Eco-Friendly Cleaning Techniques and Cleaning Agents."
We can offer you a 2 hour carpet drying time on residential work.
And we give you a FREE unlimited refillable bottle of non-toxic carpet spotter with every job.
Sometimes it's better (and cheaper) to try to restore and clean carpet – than to replace it,
and it's always a lot cheaper to maintain the carpet investment you already have.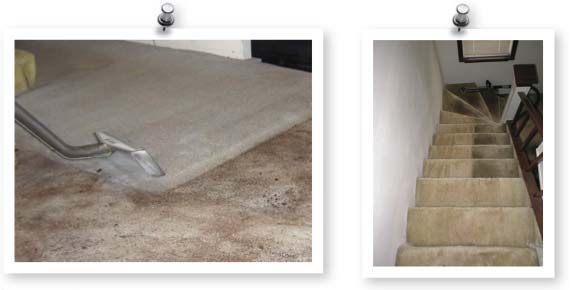 All our carpet cleaning and restoration work follows IICRC Standards
The principles of carpet cleaning are listed in the S100 Standard and
Reference Guide for Professional Carpet Cleaning, last published by the IICRC in 2002.
The principles of carpet cleaning include:
Dry Soil Removal – thorough vacuuming using an upright vacuum with brush agitation and high-efficiency double-lined collection bag, or a final filter, to remove up to 99% of particles at 1 micron.

Soil Suspension – This involves the application of properly specified, formulated and mixed preconditioning agents designed to separate soil from fibers.
There are four fundamentals involved in soil suspension:
application of preconditioning chemicals;

using heat or temperature to speed chemical reactions;

agitation for proper chemical distribution,

and providing dwell time so that chemical reactions can be completed before soil extraction is attempted. The acronym "CHAT" makes the fundamentals of soil suspension easy to remember.
Soil Extraction – Any method of cleaning must physically remove soils if it is to be successful. Soil removal takes place with absorption, wet vacuuming, rinsing, and even dry vacuuming. The most popular method for soil removal among professionals is hot water extraction.
Grooming, as necessary – Grooming has little to do with physical soil removal; however, it is needed to eliminate pile distortion and matting, to properly distribute additives, such as carpet protectors, and to create an even appearance for your inspection.
Drying – Damp carpet resoils rapidly, creates potential for slip-fall problems and ultimately, can grow bacteria with associated odor.
Residential Carpet Cleaning
The #1 question the (IICRC) gets asked:
"How often should I get my carpets cleaned?"
Answer: Frequently used carpet should be professionally cleaned by a qualified technician at least annually – perhaps a little longer interval for infrequently used carpet and even sooner for carpet in homes occupied by respiratory sensitive or allergic persons; or in homes with indoor pets.
The following chart from the IICRC S100 Standard and Reference Guide for
Professional Carpet Cleaning serves as a guideline for recommending cleaning
frequencies for carpet. They consider traffic, soil rating, vacuuming schedules,
spot cleaning schedules, and professional interim and restorative cleaning.
The (IICRC) Institute of Inspection Cleaning and Restoration Certification
"Residential Carpet Cleaning Frequency Chart"

Home / Carpet Owner
General Maintenance

Professional Carpet
Cleaner / Restorer

Vacuuming

Spot
Cleaning

Heavy Use
Interim "Area
Cleaning"

"Total
Restorative
Cleaning"

Light Soil

1 time
per week

Daily or as soon
as spots are
noticed

Traffic Areas
every 12-18
months

Every 2 years
or per
manufacturer

Normal Soil
Family with
Kids / Elderly

1-2 times
per week

Daily or as soon
as spots are
noticed

Traffic Areas
every 6-12
months

Annually
(1x year)

Heavy Soil
Families with
Pets / Smoking

2-4 times
per week

Daily or as soon
as spots are
noticed

Traffic Areas
every 3-6
months

Every
6 months
(2x year)

Extreme
Conditions
Large Families
Multiple Pets

Daily

Daily or as soon
as spots are
noticed

Traffic Areas
every 2-3
months

Every
3 months
(4x year)
Please call us for your FREE Estimate